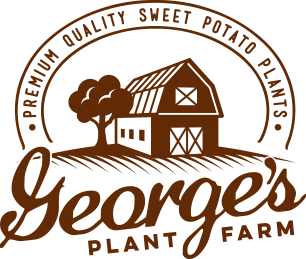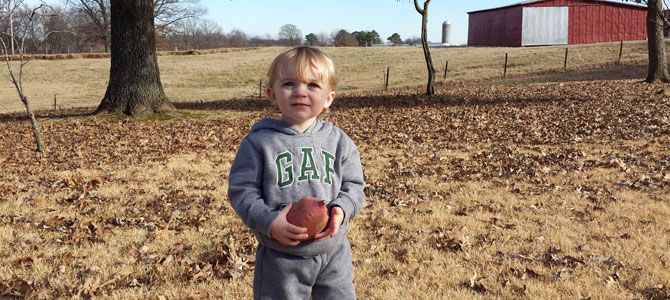 Our Grandson Collin Dellinger when he was 2 years old.
Since 1985, due to hard work, dedication and determination, we have really grown and have come a long way. Our family has worked hard in the past to make us where we are today. We will continue to work hard for you, our customers. We guarantee our stock to be true to name, clean and disease free. I like to tell all of my customers if you start out right you will end up right. Try us and I personally guarantee you will like the way we treat people.
We would like to thank all of our customers for their business, past, present and future. Our success depends on you. We hope to serve our customers for many years to come.

Thanks from the Dellinger Family.
Here is some history about our farm
From about the 1940's to the early 1970's my two cousins, J.C. and J.D. Dellinger both ran their own successful mail order sweet potato business in Gleason, TN (my hometown).
They had three varieties: Nancy Hall, Puerto Rican, and Centennial. Mr. J.D. and I talked a lot about this business before he passed away in the late eighties. He was an excellent gardener. Mr. J.C. passed away when I was very young. My father talked a lot about both of them being excellent gardeners. My father and mother both were excellent gardeners as well.
My grandfather, Charlie C. Branon built a successful mail order potato business in the 1940's and 50's. He only had two varieties: Nancy Hall and Puerto Rican. My mother and her brothers and sisters helped him grow and ship plants. My family had a small acreage of potatoes until I was a teenager.
Thousands of bushels of sweet potatoes were shipped by railroad and semi-trailer from Gleason and surrounding towns from the late 1930's until 1955.
Hearing these family members talk about their potato fields and mail order business inspired me to give this a try. Our family started growing and shipping plants in 1985. My wife Donna, our son Jeffery and daughter Andrea and myself and a few neighbors were our crew.
The seed stock we started with was from a competitor. Those seeds were destroyed many years ago. For more than ten years now, our plants have been State certified. The Tennessee state inspector from the Dept. of Agriculture checks our plant beds, fields and our winter storage facility for disease and pest. We have certification papers on file year round. Our potatoes are checked several times per year.
We are proud to say we have never had a sweet potato weevil on our farm. Many growers, small and large, are very concerned about this pest. According to our cold winter climate, sweet potato weevils can't winter in our ground.
We have accumulated our twenty potato varieties from other certified dealers in North Carolina, Georgia and a lifelong friend in Tennessee.
Take a look at these old order forms we have collected over the years.