We at George's Plant Farm would like to be your sweet potato plant provider! We have been growing and shipping quality, certified, sweet potato vines, sweet potato draws, sweet potato transplants, sweet potato slips, sweet potato starts all known as sweet potato plants for over 30 years direct from our family farm in Tennessee. Whether you are a first timer or experienced grower you will love our sweet potato plants.
George's Plant Farm
We harvest your sweet potato plants, package and mail them the same day. We sell our sweet potato plants both wholesale and direct to gardeners across the country. We pride ourselves on keeping shipping charges to a minimum from our farm to your doorstep.
You can see more pictures from our farm on the Tator Pictures Page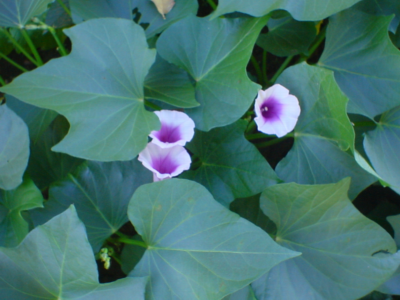 Sweet potato flowers and blooms!
Sweet Potato Blooms or Flowers are rather common in the south, they usually appear in the last half of the growing season. We hope you enjoy this picture taken at George's Plant Farm in Tennessee. Click the button to see more pictures from our farm!