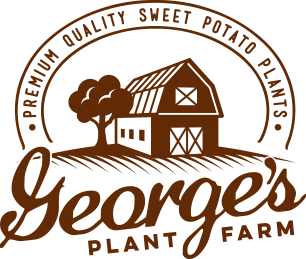 Sweet potatoes are a very versatile plant. You can make all kinds of different delicious recipes with them. Check out our collection of recipes and if you have a good one you'd like to add, let us know!
Apple Glazed Sweet Potatoes
½ cup apple juice                                            
¼ teaspoon cinnamon
½ teaspoon salt                                                 
6 small sweet potatoes, cooked
Pour apple juice in a frying pan over low heat and stir in cinnamon and salt. Add sweet potatoes. Cook over low heat, turning sweet potatoes several times until they are well coated and most of the juice is absorbed, about 6 minutes. Yield: 5-6 servings.
Per serving:
Calories 128
Protein 2 grams
Carbohydrates 30.2 grams
Dietary Fiber 3.5 grams
Fat 0 grams
Cholesterol 0 milligrams
Vitamin A 2488 RE
Vitamin C 28.3 milligrams
Calcium 35.8 milligrams
Orange Glazed Potatoes
6 medium sweet potatoes
1-tablespoon cornstarch or plain flour
2 teaspoons grated orange rind
3 tablespoons melted margarine
¼ cup brown sugar
¼ cup granulated sugar
pinch of salt
1 cup orange juice
Heat over to 350º F. Boil the unpaired potatoes until tender, about 30 minutes. Drain; peel and place in a shallow baking dish. Cook remaining ingredients and pour over potatoes and bake 30 minutes. Yield: 8 servings.
Per servings
Calories 193
Protein 1.8 grams
Carbohydrates 37.5 grams
Dietary Fiber 2.7 grams
Fat 4.5 grams
Cholesterol 0 milligrams
Vitamin A 1921 RE
Vitamin C 32 milligrams
Calcium 35.5 milligrams
Sweet Potato Pie
1/3-cup margarine
¾ cup light evaporated milk
¾ cup sugar
1 teaspoon vanilla extract
2 eggs, beaten
¼ teaspoon salt
2 cups mashed sweet potatoes(Do not use ones packed in syrup)
1 unbaked 9-inch pie shell
Preheat oven to 375ºF. Cream margarine and sugar together. Add eggs and stir. Add sweet potatoes and mix well. Stir in milk, vanilla and salt, making sure all ingredients are thoroughly mixed. Pour into pie shell and bake 40 minutes. When using a commercially frozen pie shell, use a 9-inch deep-dish shell. Note: This is a plain sweet potato pie for those who like the lush flavor of sweet potatoes accented only by vanilla. For extra flavor you may want to fancy up the pie with the addition of ½ teaspoon each of cinnamon and nutmeg, or a tablespoon of grated lemon rind and 2 tablespoons of lemon juice. This pie can also be made without using a crust. Pour ingredients into a greased 9-inch pie plate and bake 40 minutes at 375ºF. Knife inserted in center comes out clean. Yield: 8 servings
Per Serving
Calories 236
Protein 4.2 grams
Carbohydrates 35.2 grams
Dietary Fiber 1.7 grams
*Crust with add 110 calories and 7 grams fat
Fat 9 grams
Cholesterol 54.2 milligrams
Vitamin A 1112 RE
Vitamin C 10.1 milligrams
Calcium 90.6 milligrams
Sweet Potato Pudding
2 cups mashed cooked sweet potatoes
¼ teaspoon ground cloves
½ cup firmly packed brown sugar
Dash of salt
3 tablespoons margarine, melted
2 tablespoons sugar
2 eggs, separated
Vegetable cooking spray
¾ cup unsweetened orange juice
¼ teaspoon ground nutmeg
Combine potato, brown sugar, margarine, and eggs yolks in a large bowl; stir well. Gradually add orange juice, nutmeg and cloves; stir well. Set aside. Beat egg whites (at room temperature) until foamy; add salt, and beat until soft peaks form. Add sugar; beat until stiff peaks form. Fold egg whites into potato mixture. Pour mixture into a ½ quart-baking dish coated with cooking spray; place in a large, shallow pan. Add hot water to a larger pan to a depth of 1 inch.
Bake at 350ºF for 1 hour or until center is set and edges are browned. Remove dish from water; let cook 15 minutes before serving. Yield: 10 servings.
Per Serving:
Calories 153
Carbohydrates 26.29 grams
Dietary Fiber 1.4 grams
Fat 4.6 grams
Cholesterol 42.6 milligrams
Vitamin A 839 RE
Vitamin C 14.3 milligrams
Calcium 27.2 milligrams
Maple Bourbon Sweet Potato Pie
Total:

6 hr 45 min

Prep:

35 min

Inactive:

4 hr

Cook:

2 hr 10 min
When it comes to fall vegetable-based pies, some individuals fancy pumpkin, while others (like me) are die-hard sweet potato fans. Both are autumnal, both marry well with the flavors of maple, spirits, and spice; but using sweet potatoes results in a denser, creamier texture. Originally created for an article in Fine Cooking magazine, this dessert is always one of my Thanksgiving pie offerings. I can't tell you how many people have said as they down the last crumb, "and I thought I didn't like sweet potato pie."
This is like a sweet potato custard, and you will want to take care not to overbake the filling. Check it frequently as it nears the end of its baking time and remember that it will set up a bit as it cools.
Serve this pie with some lightly whipped cream or, for a slightly twisted take on a tried-and-true Thanksgiving combo, garnish with some marshmallow fluff.
1 (9-inch) basic pie crust, baked blind, recipe follows
Preheat oven to 425 degrees F.
Pierce the sweet potatoes at each end with a fork and place them on a foil-lined baking sheet. Roast until the potatoes are soft, about 1 hour, turning them over halfway through the baking time. Cool, peel, and put the flesh through a food mill or mash smoothly with a potato masher. You should have 2 cups of puree.
Turn oven down to 375 degrees F.
Combine the puree with all the remaining ingredients for the filling. Whisk until well combined and smooth. Pour the filling into the partially baked pie shell. Bake for about 45 to 50 minutes, until the filling is just barely set. When the rim of the pie plate is nudged, the very center of the filling should barely move.
Cool the pie to room temperature. It can be made several hours or up to 1 day in advance.
Basic Pie Crust:
Place the flour, salt and sugar in the bowl of a food processor with a steel blade. Pulse to combine.
Add the chilled butter and shortening; pulse until the fat is evenly cut in and the mixture resembles coarse cornmeal. Remove to a mixing bowl.
Working quickly, gradually add enough cold water, while tossing and stirring with a fork, until the dough just begins to come together. Divide the dough into 2 even portions, flatten into rounds, wrap in plastic, and chill for a few hours or overnight.
Roll out 1 portion and fit it into a 9-inch pie pan. Crimp edges. Reserve remaining portion for another use. Line shell with foil or parchment paper and fill with dry rice or beans. Blind bake in a preheated 375 degree F oven for 20 minutes. Remove foil and beans before filling.
Baked Sweet Potato Fries
Total:

35 min

Prep:

5 min

Inactive:

10 min

Cook:

20 min
Preheat oven to 450 degrees F.
Line a sheet tray with parchment. In a large bowl toss sweet potatoes with just enough oil to coat. Sprinkle with House Seasoning and paprika. Spread sweet potatoes in single layer on prepared baking sheet, being sure not to overcrowd. Bake until sweet potatoes are tender and golden brown, turning occasionally, about 20 minutes. Let cool 5 to 10 minutes before serving.
House Seasoning:
For the House Seasoning: Mix ingredients together and store in an airtight container for up to 6 months.
Recipe courtesy Paula Deen, 2008
Sweet Potato and Beet Chips with Garlic Rosemary Salt
Watch how to make this recipe.
Special Equipment: V-slicer or mandoline, deep-fry thermometer
Wash the vegetables and dry very well. Set aside.
In a small bowl combine the garlic, rosemary and salt. Set aside.
Warm the oil in a large pot over high heat to 350 degrees F.
Meanwhile, trim 1-inch off the end of each sweet potato. Using the V-slicer or mandoline, slice the sweet potatoes into very thin slices, about 1/8-inch thick. Trim 1-inch off the root end of the beets. Using the V-slicer or mandoline slice the beets into very thin slices, about 1/8-inch thick.
When the oil is hot add about a quarter of the sweet potato slices. Let fry until golden and the bubbling has almost completely subsided, about 2 to 3 minutes. Using a mesh sieve or slotted spoon remove the chips to a paper-towel-lined baking sheet. Sprinkle with some of the garlic, rosemary, and salt mixture. Continue with the remaining sweet potatoes.
Transfer to a serving plate.
Next, fry 1/4 of the beets. Let fry until curled at the edges and most of the bubbling has subsided, about 3 to 4 minutes. Transfer the beets to another paper-towel-lined baking sheet and sprinkle with salt mixture. Continue with the remaining beets. Let cool and transfer to a serving plate.
Sweet Potato Oven Fries with Avocado Dip
Sweet Potato Fries:
Avocado Dip:
Sweet Potato Fries:
Preheat your oven to 450 degrees F. Line a baking sheet with aluminum foil and set aside.
Place the sweet potatoes in a large bowl and toss with olive oil until the sweet potatoes are coated. Add the paprika, chili powder, coriander, salt, and pepper; toss to distribute evenly.
Arrange the coated fries in a single layer on the prepared pan. Bake for 20 minutes on the lower rack until the sweet potatoes soften. Transfer the pan to the upper rack of the oven and bake 10 minutes longer, until fries are crispy. Serve with Avocado Dip.
Avocado Dip:
Place the avocado, mayonnaise, cream cheese, jalapeno, scallions, and lime juice into a blender or small food processor. Blend for 1 minute or until you have a smooth paste. Season with salt and pepper, to taste. Serve as a dip for the Sweet Potato Oven Fries.
* Cook's Note: We find that Hass avocados make the smoothest and best tasting Avocado dip.
Sweet Potato Pie with Crunchy Cranberry Topping
Prep:

45 min

Inactive:

30 min

Cook:

2 hr 10 min
Filling:
Pastry:
Topping:
Heat the oven to 375 degrees F.
Prick the sweet potatoes with a fork and bake them until they are soft, about 1 hour. Remove from the oven and set aside until they are cool enough to handle.
While the potatoes are cooking make the pastry: combine the flour, sugar, and salt in a large mixing bowl. Add the butter and mix with a pastry blender or your hands until the mixture resembles coarse crumbs. Pour in the ice water and work it in to bind the dough until it holds together without being too wet or sticky. Squeeze a small amount together, if it is crumbly, add more ice water, 1 teaspoon at a time. Form the dough into a ball, wrap it in plastic wrap, and refrigerate it for at least 30 minutes.
Sprinkle the counter and a rolling pin lightly with flour. Roll the dough out into a 10-inch circle. Carefully roll the dough up onto the pin and lay it inside a 9-inch pie pan. Press the dough firmly into the bottom and sides so it fits tightly. Trim the excess dough around the rim and pinch the edges to form a border. Place a piece of parchment paper over the crust and fill with uncooked beans or pie weights. Bake the pie crust until it sets, about 20 minutes. Remove the parchment and beans. Brush the bottom with the beaten egg white and set aside.
While the crust is cooking make the filling: When cool enough to handle, peel the sweet potatoes and puree the pulp in a food processor with 1/2 stick butter and a pinch of salt. Measure 1 1/2 cups puree into a bowl. In another bowl beat the eggs and sugar until the sugar has melted. Add the eggs to the sweet potato puree and whisk well. Add the cream, orange zest, cinnamon, and nutmeg and stir well to combine. Pour the mixture into the pie shell. Place the pie pan on a sturdy cookie sheet to catch any spills. Lower the oven temperature to 325 degrees F and bake until the pie is set but still jiggles slightly, about 40 minutes. Remove from the oven and allow it to cool.
Meanwhile, put the pecans on a baking sheet and bake them with the pie for about 10 minutes to toast them. Remove them from the oven and let them cool. Thaw the cranberries in a strainer set over a bowl to catch the liquid. Put the cookies, pecans, and cranberries into a food processor and pulse them a few times until they are coarsely chopped. Sprinkle the topping evenly over the cooled pie and serve immediately.
Twice-Baked Sweet Potatoes
Total:

1 hr 40 min

Prep:

20 min

Inactive:

5 min

Cook:

1 hr 15 min
Watch how to make this recipe.
Preheat oven to 375 degrees F.
Place potatoes on a baking sheet and bake in the oven until soft, 45 to 50 minutes. Remove the potatoes from the oven and let rest 5 minutes. Slice potatoes in half lengthwise and carefully scoop out the flesh, being careful not to damage the skin. Rice the flesh in a ricer set over a bowl.
Bring the heavy cream and chipotle puree to a simmer over low heat in a small saucepan. Stir the warm cream, butter, creme fraiche and 1/2 cup of the maple syrup into the sweet potato mixture until combined. Season with salt and pepper, to taste. Spray the baking dish with cooking spray. Fill each of the skins with the cream mixture, place back on the baking sheet and bake until golden brown. Remove the potatoes to a platter and drizzle the tops of each with the remaining maple syrup.
Glazed Sweet Potatoes
1 tablespoon plus 1 teaspoon margarine
1tablespoon plus 1 teaspoon unsweetened orange juice
1 ¼ teaspoon ground cinnamon
2 medium-size sweet potatoes, peeled and each cut lengthwise into 8 wedges (about 1 pound)
Orange slices (optional)
Fresh parsley sprigs (optional)
Place margarine in an 8-inch square baking dish; microwave at HIGH 30 seconds or until melted. Stir in orange juice and cinnamon; add potatoes, tossing to coat. Cover with wax paper. Microwave at HIGH 6 to 8 minutes or until tender, stirring and turning dish once during cooking time. Garnish with orange and parsley, if desired. Yield: 4 servings.
Per Serving:
Calories 127
Protein 1.3 grams
Carbohydrates 21.8 grams
Dietary Fiber 2.8 grams
Fat 4.1 grams
Cholesterol 0 milligrams
Vitamin A 1340 RE
Vitamin C 26.8 milligrams
Calcium 28.4
Sweet Potato Casserole
Mother's best:
3 cups hot sweet potatoes mashed.
Add 1/3-cup sweet milk, 1 stick butter, 1-cup sugar, 2 eggs, 1 tsp. Vanilla.
MIX AND POUR INTO DISH.
TOPPING
Mix 1-cup brown sugar, ½-cup S.R. flour, 1 cup chopped pecans, 1/3- cup butter (room temp.). Sprinkle over top of potatoes and bake at 350º -20-30 min
Sweet Potato Muffins
½ cup margarine
¼ teaspoon salt
1-cup sugar
1-teaspoon cinnamon
2 eggs
¼ teaspoon nutmeg
1- ¼ cups sweet potatoes,
1-cup milk
Cooked and mashed
¼ cup chopped pecans
1- ½ cups all-purpose flour
¼ cup raisins
2 teaspoons baking powder
Preheat oven to 400ºF. Grease muffin pans. Cream sugar, margarine, and add eggs; mix well. Blend in sweet potatoes. Sift flour, baking powder, salt and spices. Add toother mixture alternately with milk. DO NOT OVER MIX. Fold in nuts and raisins. Fill muffin tins ½ full. Bake 25 minutes. Batter can be made ahead and stored in refrigerator for 3 to 4 days. Yield: 1- ½ dozen.
Per Serving:
Calories 194
Protein 2.9 grams
Carbohydrates 29.9 grams
Dietary Fiber 1.1 grams
Fat 7.4 grams
Cholesterol 24.2 milligrams
Vitamin A 350 RE
Vitamin C 1.3 milligrams
Calcium 41.9 milligrams
Potatoes and Apples
2 medium-size sweet potatoes, cooked, peeled and sliced
1 apple, peeled, cored, and sliced
½ cup raisins
½ cup apple juice
Arrange potato slices, apple slices and raisins attractively in a one-quart microwave-safe dish. Pour apple juice over sweet potato mixture.
Bake in a microwave at full power until apples are soft, about 4 or 5 minutes. Yield: 4 servings
Per Serving:
Calories 167
Protein 1.6 grams
Carbohydrates 41.3 grams
Dietary Fiber 4 grams
Fat 0 grams
Cholesterol 0 milligrams
Vitamin A 1289 RE
Vitamin C 15.1 milligrams
Calcium 28.3 milligrams
Roasted Sweet Potatoes with Pecans and Spiced Maple Sauce
Heat oven to 450 degrees F and arrange rack in the middle.
While oven heats, place pecans on a baking sheet to toast until they smell nutty and are slightly darker, about 5 minutes. Remove from oven and set aside.
Place sweet potatoes on a baking sheet, drizzle with oil. Season well with salt and freshly ground black pepper, and toss to coat. Roast until golden brown and tender when pierced with a knife, about 40 to 45 minutes.
Meanwhile, melt butter in a small saucepan over medium heat. When it foams, stir in maple syrup and cayenne and let cook briefly, about 1 minute. Serve sweet potatoes with a drizzle of maple butter and a scattering of pecans.
Caramel Popcorn Crusted Sweet Potatoes
With an electric mixer, beat yams, pineapple, and cinnamon until smooth. Pour into a greased casserole pan.
Preheat oven to 350 degrees F. Combine the remaining ingredients and sprinkle on top. Bake 20 minutes or until marshmallows are golden brown. Serve warm.
A viewer or guest of the show, who may not be a professional cook, provided this recipe. It has not been tested for home use.
Sweet Potato Spice Snack Cake
3/4 cup sweet potatoes, cooked and mashed
1 1/2 cups all-purpose biscuit mix (Bisquick or Jiffy) (Heart Healthy Bisquick will also work)
2 tablespoons butter or margarine
1/2 cup packed brown sugar
small amount of grated lemon peel
1/2 teaspoon ground cinnamon
1/4 teaspoon salt
1/4 teaspoon baking soda
1/4 teaspoon ground ginger
1/8 teaspoon ground cloves
2 eggs, beaten lightly
1/4 cup milk
1/2 cup chopped nuts (pecans or walnuts)
1. Measure biscuit mix into large bowl.
2. Cut in butter.
3. Add brown sugar, grated lemon peel, cinnamon, salt, baking soda, ginger and cloves.
4. Mix eggs, milk and mashed sweet potato, then add to dry ingredients and stir until blended.
5. Add in nuts.
6. Pour batter into greased 8 x 8 x 2-inch square baking pan.
7. Bake in 350°F oven for 35 minutes or until cake tester comes out clean.
8. Add Frosting after cooling.
9. Cut in squares.
This recipe works best with Cream Cheese Frosting (recipe of your choice)
Recipe courtesy of S. K. Wilk from Fairburn GA